"We will reduce South Korea to ashes in less than four minutes! Three, if there's no traffic and everyone gets to the base on time."
http://ph.news.yahoo.com/blogs/envoy/north-korea-issues-unusually-specific-threat-152720861.html
North Korean Troops, Posing For Marching Photo: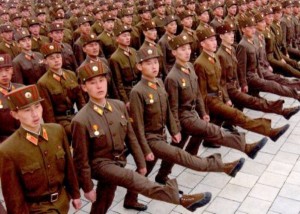 The government photographer barks orders:
"Now everyone: hold your legs up until I tell you to put them down and not a moment before!
 "Hey you, all the way on the left! — Yeah,

you

, dummy! –you're not looking toward the camera!
 "And you, dumbbell next to him! – you're looking right

at

the camera! — And who the hell told you to wear white socks today!?
 "And all of you, loosen up on the string pulling back your pants leg: you look like you're flying, not marching! Keep those legs up!

 "Now everyone, get those legs, higher – higher! C'mon, act like you're walking! Keep those toes pointed!   — 'Ring'  —  Wait a minute you guys,  I gotta take this.  Hello? Yeah… Yeah… Yeah…  Uh-huh… Uh-huh… No,, it puzzles me too why DiCaprio let that babe out of his hands… To be honest, I didn't even know they broke up… How long ago? Wow, I didn't know that…  No, I've been busy… Look, let's talk about it more tomorrow, I got all these guys standing here with their leg out…. Lunch? Sure. How's one o'clock. Okay, see you then.  — 'click'

"Okay, hold it! Good!.. Hold it!… Hold it!    'snap.'
"Okay, nobody move. We're gonna do one more shot!"
Copyright 2012 The Fine Report
thefinereport@gmail.com