Implications for every American: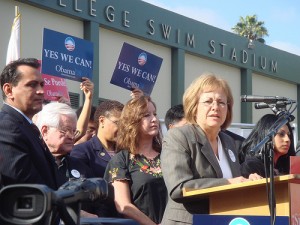 Maria Elena Durazo campaigning for Obama, 2008
A group of socialist California labor officials and Democratic Party operatives, led by Los Angeles County Federation of Labor head Maria Elena Durazo, targeted Latinos and immigrants in a deliberate program to permanently drive Golden State politics to the left.
This program was revealed in a November 2010 Calbuzz blogpost: Untold Story: How the Latino Vote Hit Critical Mass, by one of its key participants, Sacramento based Democratic Party political consultant Richie Ross.
In the post, Ross openly boasts of targeting the Latino community's fear of anti-illegal immigration measures, to drive the community even further into the arms of the Democratic Party.
He explicitly names Durazo, her late husband and labor boss predecessor Miguel Contreras, as initiators of the program. He also states how the couple worked with future California Assembly speaker Fabian Nunez to implement the plan.
http://www.trevorloudon.com/2013/01/marxist-labor-leaders-used-latino-voters-to-move-california-left-implications-for-the-entire-us/
Zzzzz….