This is how you do it folks. No big thing:

The family of a 16-year-old Philadelphia teenager who charges that her geometry teacher mocked her for wearing a Mitt Romney t-shirt has sued both the teacher and the school district for violating her First Amendment rights.
The teacher, Lynette Gaymon, allegedly told Samantha Pawlucy to "get out of this class" and pointed to the door when she entered math class at Charles Carroll High School in September, FOX 29 reported. Gaymon then tried to mark the shirt with a red marker.
Soon to be former-teacher, Lynette Gaymon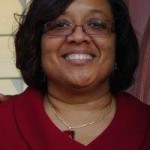 "I'm not gay, mon!"
Gaymon also said the pink "Romney-Ryan" shirt the high schooler wore to school was akin to the garb Ku Klux Klan members wear, reports The Philadelphia Inquirer.
When the incident occurred, Pawlucy's parents called for the teacher to be fired immediately.
"This is Philadelphia, the birthplace of freedom and things like that, but we have schools that want to take away her freedom," the girl's father said.
The federal lawsuit, filed last week, alleges that the defendants ignored Pawlucy's First Amendment free speech right. The incident demonstrated a "de facto prohibition" on students wearing clothing that endorsed the Republican presidential candidate, the suit maintains, according to the Inquirer.
The suit seeks damages for emotional distress because the teacher defamed Pawlucy by suggesting that she was a racist and because the district allowed students who disagreed with Pawlucy's political views to harass her.
http://dailycaller.com/2012/12/27/geometry-teacher-who-compared-students-romney-t-shirt-to-kkk-garb-faces-lawsuit/
Zzzzzz….