When you put a lunatic in power, he will empower fellow-lunatics, often calling them 'commissars,' 'reichsfuhers' — or 'czars.'
ANOTHER FIRST IN AMERICA:
Obama's bigoted 'Anti-Bullying Czar' bullies Judeo-Christian group, attacking them for their beliefs:
"We can ignore all the 'B.S.' in the Bible."
Will he say this to American Muslims about their holy book?
"Are you kidding? They'd cut my f-ing head off!"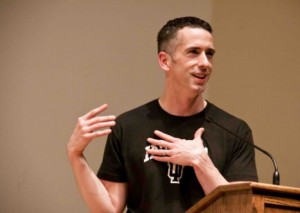 – Obama Czar of Dork, Dan Savage: bigot, propagandist , and sex expert in his hallucinations.