–

DEMOCRAT

SENATOR JOHN KERRY AMASSES $193,000,000.00 FORTUNE USING INSIDE INFORMATION, AND INFLUENCING LAWS BENEFITING HIS INVESTMENTS
– MASSIVE CRIMINAL ACTIVITY
– MASSIVE HYPOCRISY


http://freebeacon.com/smartest-guy-in-the-room/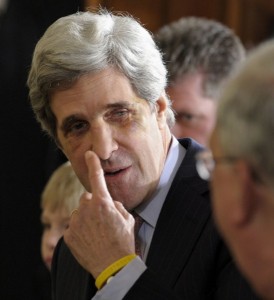 –OBAMA PAL AND UGLY MOTHERF-ER, DEMOCRAT SENATOR JOHN KERRY, GIVING THE 'CON MAN' SALUTE. AND MAN, DID HE EVER CON AMERICA!
-MAKE HIM RESIGN — AFTER GIVING IT ALL BACK!
– Penniless when he was elected U.S. Senator of Massachusetts (Democrat), Kerry has magically amased a fortune of $193,000,000.00!
– Now the richest member of the Senate!
–  Has well-documented history of investing in companies that would benefit from his vote in the Senate!
– Conveniently timed and highly profitable trades coinciding privileged information of passage of major legislation!
-Invested millions in scam 'green energy' companies that benefited from the Obama's subsidizing with taxpayer dollars!
– His 'green' companies received a $646 million taxpayer-guaranteed loan in 2011 ; created only 20 permanent jobs; other 'green' company received a $529 million federal loan guarantee in 2010!
– His government loans made possible by 2009 stimulus bill, which Kerry "played a key role" in crafting, designed to offer federal support for his 'green' energy projects!
– Kerry has hundreds of thousands of dollars invested in venture capital firm run prominent Obama donor who served on the Obama's scam 'Economy Recovery Advisory Board!'
– Was one of 10 Senators to use inside information to trade financial stocks after emergency 2008 meeting between Treasury Secretary, Federal Reserve chairman and leading members of Congress!
 – Used inside information to  load up on pharmaceutical stocks; took bribes and kickbacks and payoffs of $80 billion to help 'make the bill work!'
– Used inside information to buy shares of ResMed, a company which surged more than 70 percent after the Obamacare passage!
– Used inside information to sell stock in health care insurance providers, which were deemed big losers under the new law!
– Has millions of dollars invested in funds operated by some of his largest campaign donors!
– Helped secure a $3.5 billion windfall for prominent campaign donor!
– Kerry's controversial financial  activity STEALING  could complicate his recently announced role as a top surrogate for Obama's reelection campaign!
– Obama repeatedly sought to blame wealthy investors such as Kerry for precipitating the financial crisis of 2008!
– Kerry expressed sympathy for the controversial "Occu-Poop" movement, which has become notorious for advocating and carrying out vandalism against large banks and investment firms!
"WHAT A F-CKING BULLSH-TTING CROOK!!  LET'S GET 'EM!!"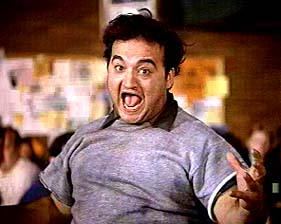 -Former U.S. Senator Blutto Blutarsky